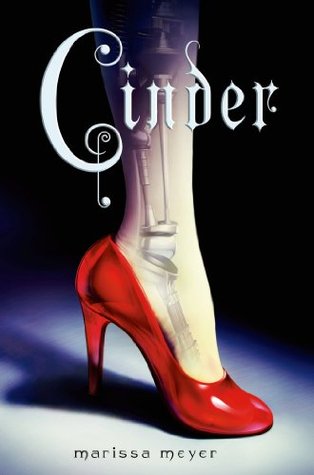 Humans and androids crowd the raucous streets of New Beijing. A deadly plague ravages the population. From space, a ruthless lunar people watch, waiting to make their move. No one knows that Earth's fate hinges on one girl.

Cinder, a gifted mechanic, is a cyborg. She's a second-class citizen with a mysterious past, reviled by her stepmother and blamed for her stepsister's illness. But when her life becomes intertwined with the handsome Prince Kai's, she suddenly finds herself at the center of an intergalactic struggle, and a forbidden attraction. Caught between duty and freedom, loyalty and betrayal, she must uncover secrets about her past in order to protect her world's future.
I re-read Cinder this weekend as I have decided to read Marissa Meyer's Lunar Chronicles Series this month.
Cinder, which is set five years after the events in the short story Glitches, relates the tale of Lihn Cinder, a young cyborg orphan who lives in New Beijing. Cinder, who is mistreated by the only mother she has ever known, struggles against social stigma while working as a gifted mechanic. Her world is turned upside down as her sister contracts a deadly disease and Cinder discovers that she is more extraordinary than she ever imagined.
Marissa Meyer's first novel re-tells the classic fairytale 'Cinderella,' modernizing the timeless story in to a young-adult treasure.  Cinder is a complex and flawed character who is easy to identify with in her awkward self consciousness.  She is strong, determined, and humorous.  Meyer does an excellent job of developing relationships between her characters; readers can laugh along with the witty banter Cinder shares with the good doctor, rejoice in the sisterly love she has with Peony, and grin at the quirky antics of Iko the android. You may even find yourself blushing for Cinder as she is playfully pursued by Kai. Meyers writing makes these characters come alive and I always have a hard time putting the book down.
There are a few criticisms of Cinder; this is Meyer's first published novel and her writing can come across as loose. Other critics have complained that she leaves many points unexplained, such as cyborgs being social outcasts. I agree with these comments but the lack of details did not hinder my enjoyment of the story thanks to an over active imagination.  Readers should remember that Cinder is a re-telling of 'Cinderella' so the story may seem predictable at times.  My suggestion is to embrace the inevitable predictability and enjoy the quirky twists that Meyer provides.
This is still one of my favorite novels and I managed to finish Cinder in three days, despite having a packed weekend. I enjoy retellings of fairytales and Meyer does an excellent job modernizing the stories and adding her science fiction twist.  Let me know what you think of Cinder and Marissa Meyer's Lunar Chronicles!
Lindsay