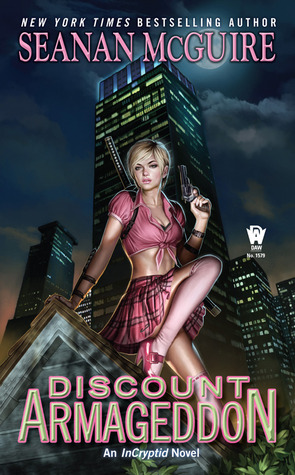 Ghoulies. Ghosties. Long-legged beasties. Things that go bump in the night….

The Price family has spent generations studying the monsters of the world, working to protect them from humanity – and humanity from them. Enter Verity Price. Despite being trained from birth as a cryptozoologist, she'd rather dance a tango than tangle with a demon, and is spending a year in Manhattan while she pursues her career in professional ballroom dance. Sounds pretty simple, right? It would be, if it weren't for the talking mice, the telepathic mathematicians, the asbestos supermodels, and the trained monster-hunter sent by the Price family's old enemies, the Covenant of St. George.

When a Price girl meets a Covenant boy, high stakes, high heels, and a lot of collateral damage are almost guaranteed. To complicate matters further, local cryptids are disappearing, strange lizard-men are appearing in the sewers, and someone's spreading rumors about a dragon sleeping underneath the city…
Discount Armageddon is the first book in the Incripted Series by Seanan McGuire. Verity Price is a competitive ballroom dancer by day and cocktail waitress at Dave's Fish and Strips, the local strip club, at night. But, as if that wasn't already a unique lifestyle, Verity also belongs to a family who is dedicated to protecting the cryptid population, all those fairytale creatures that are not supposed to exist, in New York City. She sublets an apartment from a Big Foot and shares her home, and her fridge, with her colony of Aeslin mice. Verity is just a typical twenty-two year old trying to find her niche in the world!
Discount Armageddon is worth reading just for the Aeslin mice. These talking mice are a religious colony dedicated to worshiping and recording history for Price family; they are hysterical due to their love of all-night festivals and demands for fried chicken with a side of chocolate cake. I picked up Discount Armageddon towards the end of my final semester, and it provided the fun adventurous release I was craving after months of writing papers. McGuire does an excellent job of installing the creatures of our childhood, such as the boogeyman, in to the human world; boogeymen own strips clothes, dragon princesses are cocktail waitresses, and cuckoos go to college to study mathematics.
Be prepared to get a little frustrated with Verity. She consistently makes stupid decisions, which left me constantly yelling 'WHY?" at the paperback clutched in my hands. I reminded myself that this is a coming of age story for our heroine, so I suggest readers do as I did and embrace her youthful tenacity and laugh at her antics.
I enjoyed reading Discount Armageddon as the fast pace writing kept me turning the pages. It is entertaining watching Dominic De Luna, member of the Covenant of St. George, struggle with his feelings for Verity as she drags him all over New York City. Actually, most of the book is pretty entertaining if you don't take the story line too seriously! Have fun reading Discount Armageddon and let me know what you think of Seanan McGuire!
Lindsay