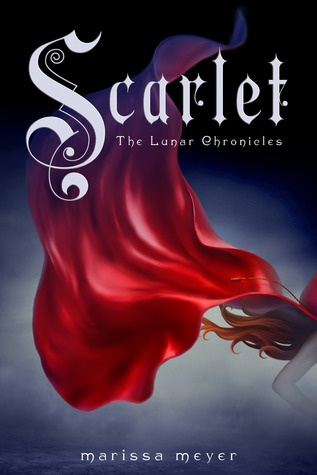 Cinder, the cyborg mechanic, returns in the second thrilling installment of the bestselling Lunar Chronicles. She's trying to break out of prison–even though if she succeeds, she'll be the Commonwealth's most wanted fugitive. Halfway around the world, Scarlet Benoit's grandmother is missing. It turns out there are many things Scarlet doesn't know about her grandmother or the grave danger she has lived in her whole life. When Scarlet encounters Wolf, a street fighter who may have information as to her grandmother's whereabouts, she is loath to trust this stranger, but is inexplicably drawn to him, and he to her. As Scarlet and Wolf unravel one mystery, they encounter another when they meet Cinder. Now, all of them must stay one step ahead of the vicious Lunar Queen Levana, who will do anything for the handsome Prince Kai to become her husband, her king, her prisoner.
Readers Beware: Here there be spoilers!
(Its just so hard not to have spoilers with a series like this.)
Last weekend we went kayaking out along the beach and of course my copy of Scarlet went with me! Scarlet is the second installment in Meyer's Lunar Chronicles series and it is jam packed with an exciting ensemble of characters. Cinder, Thorne, Iko, Scarlet, Wolf, Queen Levana, and the list just goes on and on! Meyer takes her readers from New Beijing to France as the storylines of Cinder and Scarlet merge. Cinder searches for the truth about her past and Scarlet hunts for her missing grandmother.
Cinder is determined, strong, and much more confidant than the girl we met in Cinder. I was thrilled at her growth and the grudging friendship that she develops with Thorne; the American Captain pushes Cinder to open up through his annoying comments and playful jabs. She was just a stronger character which made reading her storyline more enjoyable than expected.
We get to meet the fiery Scarlet, a French farmer who is desperate to find her missing grandmother. Scarlet takes up with the mysterious Wolf (my favorite character) after she discovers he may know where to find her Grand-mere. She convinces him to help in her search, and the two develop an interesting relationship during their trials. I can't wait to see where Meyer takes the two in the next installment.
I had hoped to see more 'telling instead of showing' with Scarlet. Meyer does take more time describing the setting, especially the Paris icons, but it was still a tad lacking. The story may be somewhat predictable because it is a re-telling of Little Red Riding Hood. My suggestion is to embrace Meyer's theme and enjoy the ride!
I couldn't put Scarlet down and the last third of the book had me holding my breath as I turned the pages. Meyer's writing is just enjoyable for me to read and I hope you find the story as enthralling. Let me know what you thought about Scarlet!
Lindsay