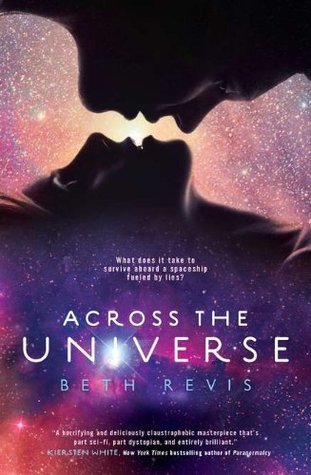 A love out of time. A spaceship built of secrets and murder.

Seventeen-year-old Amy joins her parents as frozen cargo aboard the vast spaceship Godspeed and expects to awaken on a new planet, three hundred years in the future. Never could she have known that her frozen slumber would come to an end fifty years too soon and that she would be thrust into the brave new world of a spaceship that lives by its own rules.

Amy quickly realizes that her awakening was no mere computer malfunction. Someone – one of the few thousand inhabitants of the spaceship – tried to kill her. And if Amy doesn't do something soon, her parents will be next.

Now Amy must race to unlock Godspeed's hidden secrets. But out of her list of murder suspects, there's only one who matters: Elder, the future leader of the ship and the love she could never have seen coming.
Goodreads recommended Across the Universe based on my tendency to read young adult science fiction. The cover excerpt had me hooked because who wouldn't love to read about a modern day girl struggling to cope with awaking early to an unplanned life stuck on a space ship? Be still my nerdy little heart!
There was just too much happening in Across the Universe.  Beth Revis has a beautiful imagination, but her plotline was overwhelming.  Across the Universe has tyrants, space travel, twisted medical practices, mass human breeding, rape, sabotage, suicide, mechanical disaster, murder, and the list just goes on and on.  I hand it to Revis because it is a lofty goal to cover all of these topics in less than 400 pages but the storyline jumps too much.  It then stalls as dramatic build ups are stacked upon more dramatic build ups.  I love suspense but I prefer answers to my questions before the last thirty pages of the novel; and the 'ah-ha' moments that do occur do so at the wrong parts.  Character development was sacrificed to accommodate the complex plot, and I wish she had shown us more of Elder's quirks.  I was all set to embrace every aspect of his story from beginning to end but, unfortunately his character development fell completely flat half way through the Across the Universe.  I think Revis was just trying to handle too much information.
Side note: The novel contains odd semi-graphic sex scenes and an attempted rape so keep that in mind when reading or recommending the book.
I liked it, despite the aforementioned frustrations.  Across the Universe is right up my alley.  I couldn't put the book down, though that was because I wanted to see where the author was going next.  Amy is spectacular, and the most developed of all the characters.  She drew me in to the story because I could feel her fear and panic as she clutches her teddy bear and faces her new future.  Revis did a great job writing the story from both Elder and Amy's point of views; this style helps understand the drastically different cultures of the main characters.  It is impressive for a first published book.  Revis' potential is there and I am interested to see where she takes Elder and Amy in the future.  Let me know what you think about Across the Universe and this review!
Lindsay