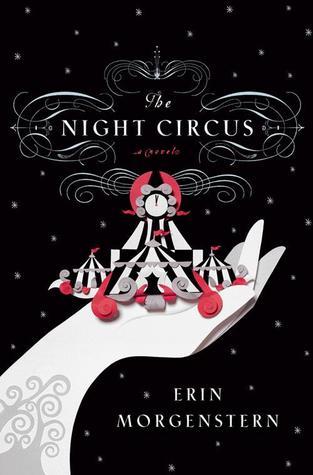 The circus arrives without warning. No announcements precede it. It is simply there, when yesterday it was not. Within the black-and-white striped canvas tents is an utterly unique experience full of breathtaking amazements. It is called Le Cirque des Rêves, and it is only open at night.

But behind the scenes, a fierce competition is underway: a duel between two young magicians, Celia and Marco, who have been trained since childhood expressly for this purpose by their mercurial instructors. Unbeknownst to them both, this is a game in which only one can be left standing. Despite the high stakes, Celia and Marco soon tumble headfirst into love, setting off a domino effect of dangerous consequences, and leaving the lives of everyone, from the performers to the patrons, hanging in the balance.
I enjoyed The Night Circus; it was a pleasant read but not as spectacular as I was led to believe.  Now, Erin Morgenstern definitely has a gift for descriptive narratives because I could vividly picture her world but the novel's synopsis is misleading.  Le Cirque des Reves arrives in the night and is only open to patrons from sunset to sunrise.  The circus is the setting, and the result, of a competition to the death between two magicians destined for love.
First: This competition is not fierce, once you finally learn what the competition is.  Instead, the event it's a slow battle that lasts years.  Fierce is just not the proper word; maybe intense is better.  I don't know.  Second: Celia and Marco do not 'tumble headfirst into love.'  They are friends with solid respect for each other that can lead to the deep love promised; it just wasn't there for me.  I felt Celia had a much stronger bond with clockmaker instead of Marco, her rival and supposed lover.  That's just my opinion.
Le Cirque des Reves is the best part of this novel.  The beautiful circus appears in the night and offers a variety of sweet treats as you wonder among tents full of hidden treasures.  Tents where you can climb the clouds or wander through a frozen forest.  Tents that leave you amazed, and slightly envious, of Erin Morgenstern's imagination.  My favorite is the clock at the entrance and I actually googled Le Cirque des Reves in hopes that something similar exists.  And yes, I know that the magic would not be real but still!
I recommend The Night Circus. Unless you are craving a swoon-worthy love story; look else ware for that.  I enjoy Morgenstern's characters, her story twists, and her circus.  Her words had me smelling the smells, tasting the popcorn, and dancing through the circus tents.  I cannot wait to see this book made in to a movie!  Let me know what you thought about The Night Circus.
Lindsay