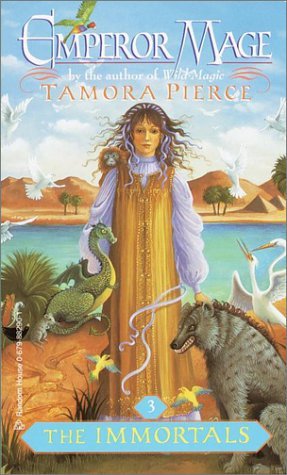 Daine sails to Cathak as part of a peace treaty delegation from Tortall. There she is amazed by strange and wondrous sights, including rooms filled with dinosaur bones and the Emperor Mage's zoo. But she also senses a darkness beneath all the gold and glitter, a darkness that lies in wait. At the same time, Daine is discovering that her own wild magic is growing again, this time giving her powers both great and terrifying.
Emperor Mage is the third book in "The Immortals" series, which chronicles a time when the world is invaded by immortal creatures and a girl is born with a magical gift that could restore the very balance of nature.
Yes people, the reviews of Tamora Pierce's Immortals series continues with the third book, Emperor Mage.  This is my FAVORITE book of the series so I actually danced a little when I picked it up last week!
Emperor Mage takes place months after the events in Wolf-Speaker and readers join Daine, Kitten, Numair, and many others on a mission to the exotic, and hostile, country of Carthak.  The group is charged with establishing peace with the dynamic Emperor Ozone and Daine is responsible for healing the Emperor's pet birds.  Unfortunately, the group arrives just as the gods get fed up with Ozone's behavior.  Daine is pulled in to the fight with a gift from the Graveyard Hag goddess and must do everything she can to save those she loves the most from the wrath of the gods.
YES!!  Doesn't that make you want to pick it up!?  Emperor Mage is unique and exciting.  It is the first story where real harm befalls Diane and we see her struggle with loss and the need to compromise.  There are still parts were Pierce wants readers to 'pay attention to the lesson' – yes we know slavery and cages are bad – but it is not too irksome as the main story is complex and keeps the storyline fluid.
We get to see Daine grow as a young woman and it is nice she doesn't grow up to leap straight into some young prince or soldier's bed.  Instead, we see her become a strong independent woman as she defies a goddess.  We see her develop friendships with unlikely characters – a Prince AND a Stormwing!  Plus we find her expanding her intellectual knowledge through Lindhall, Kaddar, and Numair.  Do not fret if you are one who is interested in the romance aspect; there is a touch of it but it is more a hint of things to come.
Emperor Mage is well worth the read!  Open the pages to join Daine as she tangles with a nosey goddess, marches with dinosaurs, and fights for her freedom all while being the spunky, headstrong young woman that I happily related to in my youth!
Let me know what you think of Emperor Mage!
Lindsay