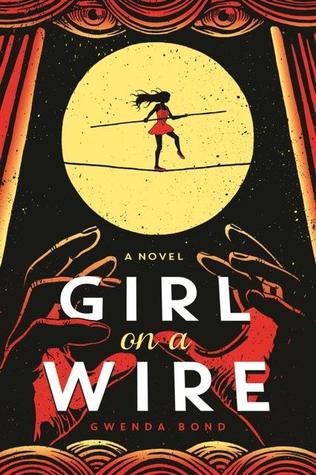 A ballerina, twirling on a wire high above the crowd. Horses, prancing like salsa dancers. Trapeze artists, flying like somersaulting falcons. And magic crackling through the air. Welcome to the Cirque American!

Sixteen-year-old Jules Maroni's dream is to follow in her father's footsteps as a high-wire walker. When her family is offered a prestigious role in the new Cirque American, it seems that Jules and the Amazing Maronis will finally get the spotlight they deserve. But the presence of the Flying Garcias may derail her plans. For decades, the two rival families have avoided each other as sworn enemies.

Jules ignores the drama and focuses on the wire, skyrocketing to fame as the girl in a red tutu who dances across the wire at death-defying heights. But when she discovers a peacock feather—an infamous object of bad luck—planted on her costume, Jules nearly loses her footing. She has no choice but to seek help from the unlikeliest of people: Remy Garcia, son of the Garcia clan matriarch and the best trapeze artist in the Cirque.

As more mysterious talismans believed to possess unlucky magic appear, Jules and Remy unite to find the culprit. And if they don't figure out what's going on soon, Jules may be the first Maroni to do the unthinkable: fall.
Girl on a Wire was released this October and many of you may wonder why I am including it in this month's Halloween Books series.  Well, Girl on a Wire takes place at a circus, and circuses can be scary as they are usually populated with clowns.  I will probably never read Stephen King's IT.  I don't do clowns.
I was pleaseantly surprised by the coming of age novel that follows Jules Maroni, of the Amazing Maronis, during her journey to reclaim the spotlight for her family.  Mix in a little mystery and magic and you have a unique story by Gwenda Bond.
Lets get the negatives out of the way first:  it just lacked character development.  Jules and Remy were the only strong characters and they even read two dimensional at times.  I wanted more, especially when it came to the two families and the variety of characters in the Cirque American.  This just made the storyline weaker overall, which was frustrating because the story is a good one.  The magic and tragedy aspects just seemed less substantial because of it; especially at the end.  Also, I felt that naming the main characters Romeo and Juliet was just lazy; I got the connection without needing that flashing sign.  And I was not a fan of the way Jules treated her parents and how they just went along with her strong-arm behavior.  My parents would have killed me if I ran away to force them to change a decision.  They definitely wouldn't have given me my way!
The circus culture is what made it hard to put the book down.  My little archaeologist heart loved Bond's use of historical and I was excited about learning about a new sub-culture!  People, I started reading up on the first circuses and freak-shows, researching museums I could visit, and tracking down the dates of local circus exhibitions.  My husband who knows, and at times delights in, my fear of clowns looked at me like I was a complete idiot.  😀 I wanted to learn more!!!
My favorite scenes in Girl on a Wire are the moments when Jules is actually out on the wire.  Bond perfectly described the feeling of freedom, adrenaline, and joy one would expect a professional wire walker to experience; it is what I feel when flying!  She did a spectacular job making the circus life feel natural for readers and I could tell her research had been extensive.
I wish I could walk a wire but I fall standing on flat ground!  I definitely recommend this book if you are looking for something different or just enjoy the thrill of being up high!  Girl on a Wire was just fun to read.  Any circus lovers out there?
Lindsay