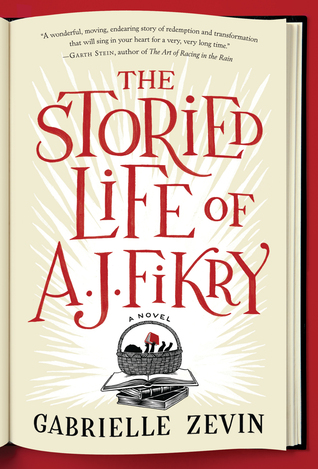 A. J. Fikry's life is not at all what he expected it to be. His wife has died, his bookstore is experiencing the worst sales in its history, and now his pr

On the faded Island Books sign hanging over the porch of the Victorian cottage is the motto "No Man Is an Island; Every Book Is a World." A. J. Fikry, the irascible owner, is about to discover just what that truly means.A. J. Fikry's life is not at all what he expected it to be. His wife has died, his bookstore is experiencing the worst sales in its history, and now his prized possession, a rare collection of Poe poems, has been stolen. Slowly but surely, he is isolating himself from all the people of Alice Island-from Lambiase, the well-intentioned police officer who's always felt kindly toward Fikry; from Ismay, his sister-in-law who is hell-bent on saving him from his dreary self; from Amelia, the lovely and idealistic (if eccentric) Knightley Press sales rep who keeps on taking the ferry over to Alice Island, refusing to be deterred by A.J.'s bad attitude. Even the books in his store have stopped holding pleasure for him. These days, A.J. can only see them as a sign of a world that is changing too rapidly.

And then a mysterious package appears at the bookstore. It's a small package, but large in weight. It's that unexpected arrival that gives A. J. Fikry the opportunity to make his life over, the ability to see everything anew. It doesn't take long for the locals to notice the change overcoming A.J.; or for that determined sales rep, Amelia, to see her curmudgeonly client in a new light; or for the wisdom of all those books to become again the lifeblood of A.J.'s world; or for everything to twist again into a version of his life that he didn't see coming. As surprising as it is moving, The Storied Life of A. J. Fikry is an unforgettable tale of transformation and second chances, an irresistible affirmation of why we read, and why we love.
I started reading The Storied Life of A.J. Fikry on sheer impulse.  I was wandering around Target in a irked mood wasting time in the book section when I spotted this novel on the Target Book Club shelves.  I like the cover so I read the synopsis on the back and was drawn in by the promise of an uplifting story.  I needed an uplifting story, so I read it.
I was immediately drawn in by A.J. Fikry.  I love how brutally honest, awkward, and tortured he is.  he had me hooked during his meeting and I felt like I was sitting next to him as he drank his anguish away.  He is content with being miserable and it takes the theft of his prize possession along with the arrival of a surprise package for A.J. to get his life together.  The first third of the book is what I enjoyed because it depicts the healing of A.J. Fikry.
The other two-thirds of the novel is why The Storied Life of A.J. Fickry was just ok.  It was not an outstanding story but don't be surprised if it still shows up on your book club list.  I'm not sure in what genre it belongs because Zevin has produced a novel that is adult fiction, romance, chick-lit, and young adult.  It started out as a solid piece of adult fiction and just rolled in to chick-lit as the prose developed.  It isn't something that I would normally read because I prefer my chick-lit to be more humorous; more romantic comedy than drama.
This was to be a story that documented the interesting life of A.J. Fickry and it just stopped doing that after the first third of the novel.  It was less about A.J. and Maya, and more about Amelia, Ismay, and Lambaise.  I enjoyed some of the supporting characters, with young Maya and Lambaise being my favorites, but I felt like it was just missing something.  And we needed to hear Maya's voice at the end.  Her influence on A.J. required her reaction.
It's a good book.  I love the reviews/notes that A.J. leaves for Maya.  I liked the mystery behind the missing copy of Tamerlane.  I cried, not because of the writing, but because I needed a good cry and A.J. was a character I could cry for.  The Storied Life of A.J. Fikry was different, and I agree that the first part of the novel was very uplifting.  It was the right book at the right time for me. Have you read The Storied Life of A.J. Fikry?  What did you think?
Lindsay