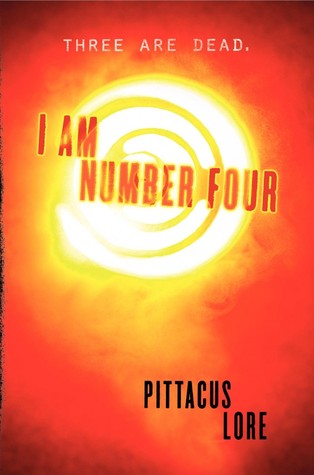 In the beginning they were a group of nine. Nine aliens who left their home planet of Lorien when it fell under attack by the evil Mogadorian. Nine aliens who scattered on Earth. Nine aliens who look like ordinary teenagers living ordinary lives, but who have extraordinary, paranormal skills. Nine aliens who might be sitting next to you now. The Nine had to separate and go into hiding.

The Mogadorian caught Number One in Malaysia, Number Two in England, and Number Three in Kenya. All of them were killed. John Smith, of Paradise, Ohio, is Number Four. He knows that he is next.

I AM NUMBER FOUR is the thrilling launch of a series about an exceptional group of teens as they struggle to outrun their past, discover their future—and live a normal life on Earth.
I know today is May 1st but I'm still treating it like April because it is Friday and it's tough to start something new on Fridays. April was all about finishing up those half read books on my night stand and I Am Number Four is the last of that pile.  I remember when it came out in 2010 because so many people loved the story. I have finally caught up and I'm sad to say that I was less than impressed.
Let me start the review by stating I enjoy the ideas behind I Am Number Four.  I mean teenage aliens that are pretty much superheroes is just screaming for its own tv show! I'd watch it! I loved so many of the secondary characters including Henri, Bernie Kosar, and Sam. I was even excited about Six and her mysterious backstory. I liked the storyline so much that I wouldn't mind reading the rest of the series to learn more but that's not going to happen.
I was not a fan of the symplistic writing style. It was short, choppy, emotionless, and telling. There wasn't a single 'showing' passage. It was down right boring. It was like listening to someone drone on in monotone for hours. The story is a mashup of science fiction, fantasy, and young adult tropes that just don't work because of the writing style. Don't believe me? Read the final battle scene in the woods and tell me what you think. I also felt that the story would have been much better without Sarah. Her relationship with Four was sooooooo annoying and pointless. The emotionless writing made their relationship, well, emotionless and I didn't feel anything for them when I turned that last page.
I Am Number Four was just frustrating.  I decided to give the movie a chance figuring that it couldn't be worse than the book, and well, the movie was better. I never say this but I wish I had just watched the movie instead of trudging on through the book.
I love the underlying plot but wish I Am Number Four had stronger writing styles and better editing. Are you a fan of the Lorien Legacies books? I'd love to hear what you like about them.
Lindsay