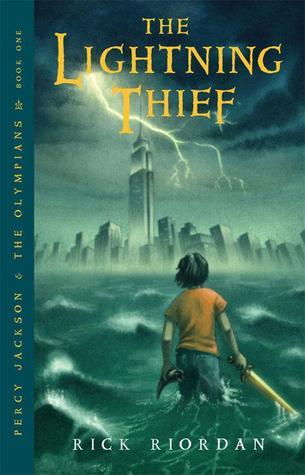 Percy Jackson is a good kid, but he can't seem to focus on his schoolwork or control his temper. And lately, being away at boarding school is only getting worse—Percy could have sworn his pre-algebra teacher turned into a monster and tried to kill him. When Percy's mom finds out, she knows it's time that he knew the truth about where he came from, and that he go to the one place he'll be safe. She sends Percy to Camp Half Blood, a summer camp for demigods (on Long Island), where he learns that the father he never knew is Poseidon, God of the Sea. Soon a mystery unfolds and together with his friends—one a satyr and the other the demigod daughter of Athena—Percy sets out on a quest across the United States to reach the gates of the Underworld (located in a recording studio in Hollywood) and prevent a catastrophic war between the gods.
The only good thing about having a commute is listening to audio books to and from work. I'm loving it but I'm also going through books like crazy! Thankfully my friend Amanda added to my driving list when she recommended the Percy Jackson and The Olympians series.
Why haven't I read this series earlier!?
So for the unenlightened, as I was just mere weeks ago, The Lightning Thief is the first book in the Percy Jackson and The Olympians series. It tells the story of how our young hero, Percy Jackson, learns he is a Demi-god and sets out on his first quest to save his mother and search for Zeus' master lightning bolt. I was hooked by the end of the second chapter! I love how Riordan fluidly mixes Ancient Greek mythology with a modern setting to provide a realistic story. He has a wonderful sense of humor that kept me chuckling and I enjoy his realistic characters. Percy, Annabeth, Grover, and even the Gods each have their own flaws. This allows for relatable characters. Plus, Riordan utilizes myths that I didn't even know know existed!
The Lightning Thief can get a little slow during the middle as Percy, Annabeth, and Grover make their way across the country. This section is full of essential character building and readers will experience Percy's growth and self discovery. Some younger readers may find their focus wandering but I still suggest it for readers of all ages. Also, don't let the movie deter you from reading this book. I enjoyed the movie though I knew it was nothing like the book and fell short of fans' expectations. Just read the book because it is definitely better than the film.
All in all this is a great novel full of life lessons, hearty humor, and plenty of action. I can't believe it took me so long to read The Lightning Thief but I'm definitely a fan! Expect to see the rest of the series, and probably most of Riordan's books, in future Sand Between the Pages posts!
Lindsay