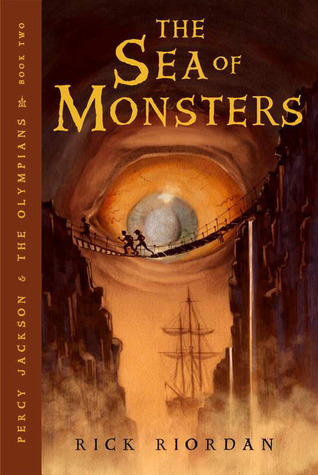 The heroic son of Poseidon makes an action-packed comeback in the second must-read installment of Rick Riordan's amazing young readers series. Starring Percy Jackson, a "half blood" whose mother is human and whose father is the God of the Sea, Riordan's series combines cliffhanger adventure and Greek mythology lessons that results in true page-turners that get better with each installment. In this episode, The Sea of Monsters, Percy sets out to retrieve the Golden Fleece before his summer camp is destroyed, surpassing the first book's drama and setting the stage for more thrills to come.
Well, I'm pretty much hooked on Riordan's Percy Jackson and the Olympians series. The Sea of Monsters is book two in the series and I was excited that our heroes travel to the same lands in one of my favorite stories by Homer, The Odessy. Camp Halfblood 's defenses are failing and monsters are attacking in droves. It is up to Percy, Annabeth, and Tyson to save Grover and recover the only item that can restore the camp, the Golden Fleece.
My favorite aspect of this series is the well rounded main characters. They are kind, strong, and intelligent but also maintain more flawed characteristics. We are introduced to the Cyclops, Tyson, who is treated rather unkindly by fellow campers due to his species and slow speech. We watch Percy come to terms with the nature of his relationship with Tyson and it was refreshing to see him struggle with both shame and irritation at his situation, as well as eventually overcoming those feelings in the end. Headstrong and confident Annabeth must even deal with the knowledge that her fatal flaw is hubris. Riordan's well developed characters are why I recommend this series to young readers. He makes his characters deal with mentally and physically difficult situations and shows readers how to grow and overcome personality flaws. Great lessons for today's youth!
Once again, Riordan also expertly melds the modern and Ancient Greek worlds. This history buff could barely contain my excitement at Percy battling Odysseus' Cyclops and I am secretly hoping the crew eventually returns to the Sea of Monsters! I wish Grover was more involved with the story but reading about him running around in a dirty wedding dress was worth it! And I LOVED Riordan's use of the historic Civil War Iron Sides!
I really don't have any negative thoughts about The Sea of Monsters except I wish I knew more about the driving factors for both Clarisse and Luke. These two characters do read a tad two dimensional, but I am hoping Riordan continues to develop them as the series progresses. Luke is still a mystery for me, but it was refreshing to learn about the tense relationship between Clarisse and her father.
I love how The Sea of Monsters ended and I'm going to leave it at that. No hints kids! Which means you need to read it! I can't wait to finally get the third book on audio so I can listen to it during my work commute.
Have a great weekend guys!
Lindsay