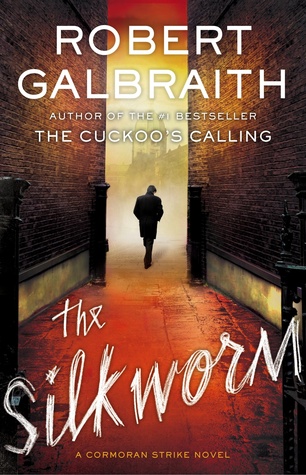 Private investigator Cormoran Strike returns in a new mystery from Robert Galbraith, author of the #1 international bestseller The Cuckoo's Calling.

When novelist Owen Quine goes missing, his wife calls in private detective Cormoran Strike. At first, Mrs. Quine just thinks her husband has gone off by himself for a few days—as he has done before—and she wants Strike to find him and bring him home.

But as Strike investigates, it becomes clear that there is more to Quine's disappearance than his wife realizes. The novelist has just completed a manuscript featuring poisonous pen-portraits of almost everyone he knows. If the novel were to be published, it would ruin lives—meaning that there are a lot of people who might want him silenced.

When Quine is found brutally murdered under bizarre circumstances, it becomes a race against time to understand the motivation of a ruthless killer, a killer unlike any Strike has encountered before…
The Silkworm is the second novel in Robert Galbraith's (aka JK Rowling) Cormoran Strike mysteries. Feel free to check out my review of the first novel, The Cuckoo's Calling. 
I read these novels because I love Cormoran Strike! I like that he's tall, rough, awkward, and stands out in EVERY crowd. I like that he's stubborn, irritable, and steadfast in his investigative techniques. The characteristics that would turn most people off make me love him all the more! I would definitely grab a pint with him.
Still, I was not really a fan of The Silkworm. There are two big points that just made the plot 'eh' for me. One: the relationship between Robin and Matthew just pissed me off. I just don't understand why such a smart, independent woman would be with someone as insecure and mean as Matthew. Luckily, Robin stands up for herself and the story ends with what seems to be a healthier future for the couple. But I still found myself yelling at Matthew while reading.
Two: the main storyline, aka the mystery, was too slow for my taste. It drug on and on about Quine's terrible novel and depressing writing career. I had a difficult time sympathizing with ANY of the 'literary world' characters. NONE of them were remotely likable!! Quine's death was the most interesting aspect of the character! I feel like Galbraith was attempting to humorously releave frustrations with the literary industry but it left The Silkworm's plot less engaging.
I still recommend the book because of Strike and his character development. Strike is no longer struggling to survive and we are able to see him fully interact with family and friends. I love that his relationship with Robin is bluntly honest and surprisingly full of trust. His self confidence is strengthening since his split with Charlotte and we meet characters that truly love Strike. We see him communicate with his aunt and uncle, who beg him to visit for Christmas. We meet his old school buddy, Chum, who's willingness to help Strike with no strings attached leaves you wanting to buy them both a beer. And we get to meet Al, the one sibling who adores Strike just the way he is (sister Lucy constantly trying to change him gets old) All of these points make The Silkworm a worthwhile read!
Plus, the ending is AWESOME! Have you read The Silkworm? Share your thoughts!
Lindsay