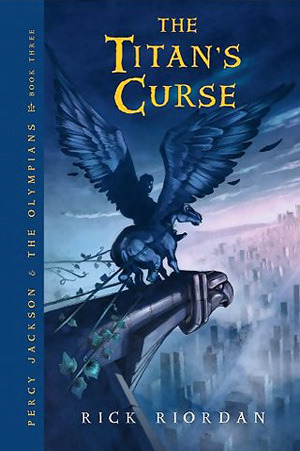 IT'S NOT EVERYDAY YOU FIND YOURSELF IN COMBAT WITH A HALF-LION, HALF-HUMAN.

But when you're the son of a Greek god, it happens. And now my friend Annabeth is missing, a goddess is in chains and only five half-blood heroes can join the quest to defeat the doomsday monster.

Oh, and guess what? The Oracle has predicted that not all of us will survive…
The Titan's Curse is the third novel of Riordan's Percy Jackson and the Olympians series. I'd say this is my favorite novel but then I read book four; this series gets better and better with each book!
The Titan's Curse involves some of our favorite characters from the last two books and introduces a number of new demigods to root for. Readers will meet Thalia, the daughter of Zeus, Zoe Nightshade, Artemis' right hand woman, and mysterious siblings, Bianca and Nico.
The story follows Percy and crew on a quest to save Annabeth, who is a captive of Luke and the army of Chronos. We get to see a different side of Percy, as he struggles to work with stubborn Thalia and deals with his fear of losing Annabeth. The Titan's Curse brings us characters who are slowly maturing as they age and Riordan is amazing at providing these characters with realistic strengths and flaws. His character development is the main reason I keep reading these stories! Plus, readers get to meet Artemis, Apollo, and Annabeth's dad!
I don't have any complaints with The Titan's Curse, but I will add that I did not like Thalia. I found her to be way too hot-headed for my taste and it made her arguments with Percy seem petty. But don't let that stop you from reading because I did love her in the end!
Who else loves the Percy Jackson and the Olympians series?
Lindsay