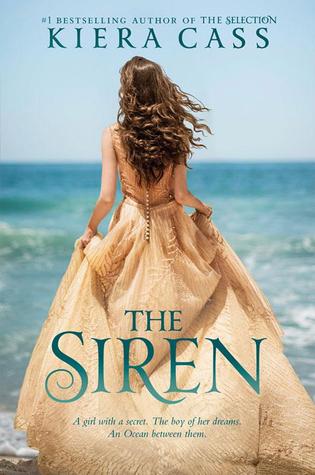 Love is a risk worth taking.

Years ago, Kahlen was rescued from drowning by the Ocean. To repay her debt, she has served as a Siren ever since, using her voice to lure countless strangers to their deaths. Though a single word from Kahlen can kill, she can't resist spending her days on land, watching ordinary people and longing for the day when she will be able to speak and laugh and live freely among them again.

Kahlen is resigned to finishing her sentence in solitude…until she meets Akinli. Handsome, caring, and kind, Akinli is everything Kahlen ever dreamed of. And though she can't talk to him, they soon forge a connection neither of them can deny…and Kahlen doesn't want to.

Falling in love with a human breaks all the Ocean's rules, and if the Ocean discovers Kahlen's feelings, she'll be forced to leave Akinli for good. But for the first time in a lifetime of following the rules, Kahlen is determined to follow her heart.
The Siren is a young adult fantasy romance by Kiera Cass, best known for her Selection series. It was originally released in 2009 and has sense been edited and rereleased in 2016. The story follows Kahlen, a young woman who is dedicated to the Ocean as a siren for 100 years. Serve 100 years and get a brand new life at the end; disobey the rules and the Ocean takes all life away. Kahlen has spent her first 80 years following all the rules, until she meets her one true love.
Ok, ok. Before you start rolling your eyes, because I definitely did when writing that last line, just know that The Siren is definitely a YA romance. I was initially drawn to the book because, well sirens! No one writes about sirens! I managed to get the book for free on Audible, which was good because I honestly would have been irked if I paid full price for it. The Siren was ok, but just ok.
I am going to start with some good points. I actually enjoyed the relationship between Kahlen and Akinli. Sure, it contained a healthy dose of the Insta-love that has become staple for Young Adult, but I like the relationship Cass develops. It was very grounded, despite the fact that Kahlen is a siren and doesn't speak. Cass focuses on the simple yet wonderful aspects of a solid relationship built on friendship: days spent doing nothing, dancing, inside jokes, and happiness. I love how Akinli sees past Kahlen's stunning exterior beauty and sees all the things that makes her who she is. It's a sweet relationship.
I also enjoyed the relationship Kahlen has with her sisters. Sirens are rarely covered in modern fiction, so this was a nice change. The life they share is awesome. I like how they are from all different walks of life, how they have each other's back no matter what, and how they spend their years learning everything they can. Plus, Cass' take on the Ocean was awesome!
Now time for the negative. EVERYTHING soured in the story as Kahlen's heartbreak consumed her. I can hear your arguments: Lindsay, heartbreak does that to the best of us and it was a pretty realistic representation. True points, but that doesn't make it any easier to read and this is the main reason I have stepped away from YA. The Ocean became overwhelming, her sisters seemed so naggy, and Kahlen was all over the place. It just took the wind out my sails because The Siren really isn't a bad story. Just, blah; whiny teen romance. Plus, I wish there was more siren lore and history.
The Siren was a good book. It's the perfect choice to get you in the mood for the beach and it should be a pretty quick read. Have you read The Siren? Are you a Kiera Cass fan?
Lindsay