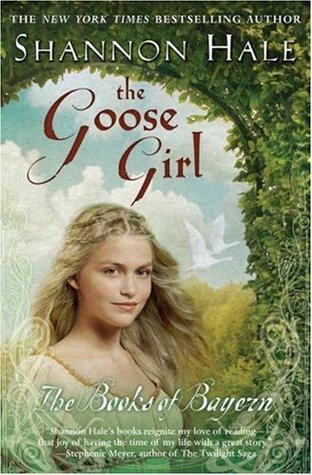 Anidori-Kiladra Talianna Isilee, Crown Princess of Kildenree, spends the first years of her life under her aunt's guidance learning to communicate with animals. As she grows up Ani develops the skills of animal speech, but is never comfortable speaking with people, so when her silver-tongued lady-in-waiting leads a mutiny during Ani's journey to be married in a foreign land, Ani is helpless and cannot persuade anyone to assist her.

Becoming a goose girl for the king, Ani eventually uses her own special, nearly magical powers to find her way to her true destiny. Shannon Hale has woven an incredible, original and magical tale of a girl who must find her own unusual talents before she can become queen of the people she has made her own.
Goose Girl is a pre-teen high fiction story about how a young princess survives a mutiny and discovers her own hidden strengths. High fantasy was my favorite genre as a pre-teen. There is just something about magic and adventure that helps you get through that awkward stage of life, and Goose Girl is perfect as it details Princess Ani's coming-of-age journey. It is a well-constructed debut novel; Hale provides extensive main character and plot development while also delivering all those 'how to live' morals every young reader needs.
I like Ani. She wasn't the typical independent, strong female or the head-over-heels-in-instalove females that currently dominate the pre-teen and young adult genres. Ani is socially awkward and insecure. She gets along better with animals than humans. She is not physically strong. And it is because of all this that we get to join a wonderfully relatable character on her journey of self-discovery. I listened to the audio book which was interesting as the novel is read by a number of actors. This made the story read like a movie, and I wish all audio books were done in the same format.
The one big negative I have is Ani's magical ability. I don't want to provide any spoilers so I will just say that I felt it needed to be tied in better. The magic its self was fine; I just found it difficult to believe she was the only one with this ability. Plus, the reactions to her powers at the end just did not feel believable. That's all I am going to say about that!
PARENTAL ALERT: Goose Girl is written for a younger audience but there are a few graphic scenes that may be a bit much for some readers. This includes suggestions towards rape (no actual attempts or the physical act) and animal cruelty. You may want to read it first before recommending it to younger readers.
Goose Girl is a great story for readers of all ages as it reminds that we don't need external approval to feel special and strong. Pick it up if you're in the mood for an interesting fantasy and let me know if you have any fantasy recommendations!
Lindsay