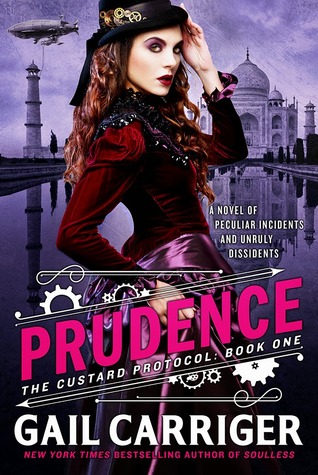 When Prudence Alessandra Maccon Akeldama (Rue to her friends) is given an unexpected dirigible, she does what any sensible female would under similar circumstances – names it the Spotted Custard and floats to India in pursuit of the perfect cup of tea. But India has more than just tea on offer. Rue stumbles upon a plot involving local dissidents, a kidnapped brigadier's wife, and some awfully familiar Scottish werewolves. Faced with a dire crisis and an embarrassing lack of bloomers, what else is a young lady of good breeding to do but turn metanatural and find out everyone's secrets, even thousand-year-old fuzzy ones?
I picked up Prudence: The Custard Protocol because I had heard good things about Gail Carriger and it was the only audiobook the local library had of her work. I will eventually read her Parasol Protectorate series, but have read the first book of her Finishing School series. Feel free to check out my review of Etiquette and Espionage.
The Custard Protocol series is the third in Carriger's steampunk paranormal world (the other two mentioned earlier). Prudence Alessandra Maccon Akeldama, or Rue, is the metanatural daughter of three high ranking members of the British paranormal community. Intelligent, head strong, and up for anything, Rue is given her own dirigible by her adopted vampire father and sent to India in search of some interesting tea.
Ok, so let's start with what I liked about Prudence. I loved how over the top it is! The exquisite wardrobe changes, the snarky banter, and of course the dirigible painted up like a giant ladybug are endearing. I can appreciate a woman who manages her own flying machine, and I liked Rue. She is stubborn, strong, and smart; which are the traits I prefer reading in heroines. She has a solid and uplifting friendship with Primrose. She is isn't jealous or undermining when it comes to her friend's beauty and talents, and they both do what they can to promote each other. I even found her budding relationship with Quesnel refreshing. Rue is intrigued and often annoyed at their flirty encounters instead of turning in to the typical star-crossed love stuck heroines of modern novels. Overall, it was just a fun quirky read.
My only real complaint is that there really wasn't a solid plot. Stuff just happens and we are left with a 'and now what?' feeling as we turn the last page. The story just seemed to ramble on. The quirky aspects I enjoyed also became tiresome at times; usually when a dumb decision is made because of propriety (such as leaving Europe early because Prim was wearing the wrong type of dress). I was totally fine with Rue's impulsive nature because every character needs a few good faults, but certain choices just made her seem like an idiot. I do wish the plot had been a little more developed.
I did enjoy Prudence and and plan to listen to the next installment. Sometime you just need something quirky to make the daily commute fun. What is your favorite Gail Carriger book?
Lindsay