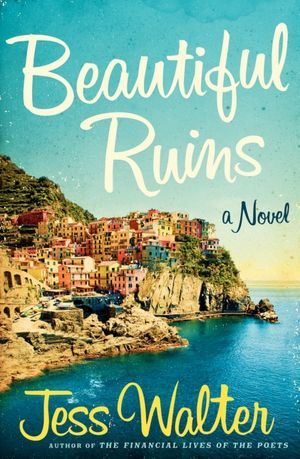 The story begins in 1962. On a rocky patch of the sun-drenched Italian coastline, a young innkeeper, chest-deep in daydreams, looks out over the incandescent waters of the Ligurian Sea and spies an apparition: a tall, thin woman, a vision in white, approaching him on a boat. She is an actress, he soon learns, an American starlet, and she is dying.

And the story begins again today, half a world away, when an elderly Italian man shows up on a movie studio's back lot—searching for the mysterious woman he last saw at his hotel decades earlier.

What unfolds is a dazzling, yet deeply human, roller coaster of a novel, spanning fifty years and nearly as many lives. From the lavish set of Cleopatra to the shabby revelry of the Edinburgh Fringe Festival, Walter introduces us to the tangled lives of a dozen unforgettable characters: the starstruck Italian innkeeper and his long-lost love; the heroically preserved producer who once brought them together and his idealistic young assistant; the army veteran turned fledgling novelist and the rakish Richard Burton himself, whose appetites set the whole story in motion—along with the husbands and wives, lovers and dreamers, superstars and losers, who populate their world in the decades that follow.

Gloriously inventive, constantly surprising, Beautiful Ruins is a story of flawed yet fascinating people, navigating the rocky shores of their lives while clinging to their improbable dreams.
I'm not going to provide a summary as the synopsis is perfect and I don't want to accidentally spoil anything. I will admit that I was quite hesitant about picking up Beautiful Ruins because it promised a story about flawed individuals. I am not a huge fan of fiction that doesn't include some kind of mystery because it typically means spending 300-400 pages reading about barely likeable characters as they struggle to find meaning in their life. So I wasn't going to read this at all but the cover just kept drawing me in. I'm a sucker for the picturesque coastal cliff towns that populate the Mediterranean. And lets be honest, I needed to push myself to read a different type of historical fiction. So, a story about Italy and old Hollywood wasn't a bad place to start.
I didn't necessarily dislike Beautiful Ruins, but even after finishing, I can definitely say that it is not my type of book. I probably wouldn't have finished if I hadn't picked up the audio version from my local library. I know what you're thinking, because I have thought this about many a reviewer in the past: why in the world did this woman read this book if she knew she didn't like contemporary fiction. Because I am trying to broaden my horizons as a reader! Sadly, this is still not going to be a genre I readily embrace.
But don't hold that against Beautiful Ruins. Yes, there are a number of barely likeable characters. Yes, I found their parts of the story boring. And yes, it was a well written story, with complex characters, beautiful settings, and an ending that made the book worth reading. I adored the fluid imagery provided by Jess Walter, as I had no problem visualizing Pasquale's quiet village, the maddening race across the United States, and the vibrant set of Cleopatra. The story is riddled with a snarky, subtle humor and I was honestly surprised to find myself chuckling a number of times during my daily commute. At the same time, I wasn't surprised to find myself rolling my eyes in disgust when forced to focus my attention on characters that didn't deserve it. And then I would read a brilliant scene,like the one about paintings on a bunker wall, and would be immediately drawn back in. I found Beautiful Ruins surprising in its ability to pull empathy from me, and yet strangely predictable when it came to character issues and life lessons.
Would I recommend Beautiful Ruins? I honestly don't know. Yes, if you like these types of stories or are interested in a different historical fiction. No, if you want a lighthearted read or something to keep you on the edge of your seat. I have mixed feelings about Beautiful Ruins, but I'm not disappointed that I finished the story.
Did you like Beautiful Ruins? Are there other Jess Walter books I need to check out? Let me know.
Lindsay