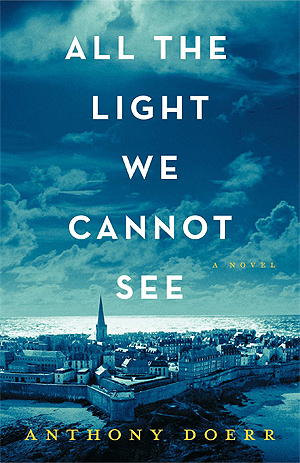 A stunningly ambitious and beautiful novel about a blind French girl and a German boy whose paths collide in occupied France as both try to survive the devastation of World War II.

From the highly acclaimed, multiple award-winning Anthony Doerr, a stunningly ambitious and beautiful novel about a blind French girl and a German boy whose paths collide in occupied France as both try to survive the devastation of World War II.

Marie Laure lives with her father in Paris within walking distance of the Museum of Natural History where he works as the master of the locks (there are thousands of locks in the museum). When she is six, she goes blind, and her father builds her a model of their neighborhood, every house, every manhole, so she can memorize it with her fingers and navigate the real streets with her feet and cane. When the Germans occupy Paris, father and daughter flee to Saint-Malo on the Brittany coast, where Marie-Laure's agoraphobic great uncle lives in a tall, narrow house by the sea wall.

In another world in Germany, an orphan boy, Werner, grows up with his younger sister, Jutta, both enchanted by a crude radio Werner finds. He becomes a master at building and fixing radios, a talent that wins him a place at an elite and brutal military academy and, ultimately, makes him a highly specialized tracker of the Resistance. Werner travels through the heart of Hitler Youth to the far-flung outskirts of Russia, and finally into Saint-Malo, where his path converges with Marie-Laure.

Doerr's gorgeous combination of soaring imagination with observation is electric. Deftly interweaving the lives of Marie-Laure and Werner, Doerr illuminates the ways, against all odds, people try to be good to one another. Ten years in the writing, All the Light We Cannot See is his most ambitious and dazzling work.
I initially learned about All the Light We Cannot See from various Booktube reviewers. I was honestly hesitant to pick up the book because I wasn't in the mood for a young adult story. I just figured it was YA because that is the predominant genre reviewed on Booktube. It turns out that All the Light We Cannot See is not YA (figured that out half way through the story) and that it was a fantastic book to take a chance on.
I loved how Doerr focused on sharing World War II from the point of view of two children. He did a fantastic job creating realistic, likable characters; each with their own fears, flaws, and strengths. Doerr masterfully weaves the stories of multiple characters through an intricate storyline, while still managing to provide realistic endings for all involved. All the Light We Cannot See touched on so many tough subjects, including love, sacrifice, personal conflict, intellectual passion, and the many small aspects of life during wartime. It is a story that makes a reader think, and even know, I still find myself contemplating the details of Werner's role.
I felt the representations of the children were unique as Marie Lore is a young blind girl from a loving home in France and Werner a incredibly intelligent young man from a hard childhood existence in Germany. The way they processed the world around them, how they both struggled to survive, and the way their lives inexplicably come together like two trains on a head-on collision were just enthralling.
My only complaint would be the storyline involving the cursed stone. It wasn't my favorite. I really can't explain why because I loved the art history and natural science of the story, and I understand the stone could represent the desperate hope of those fighting to survive. Sadly, this plot line just didn't draw me in as completely as the rest of the book.
With that said, All the Light We Cannot See is fantastically written. Doerr's expert melding of different settings, characters, and times leaves you feeling as if you're dancing through the story instead of bouncing from page to page. It is a wonderfully different story about the Second World War and great for readers of all ages!
Have you read All the Light We Cannot See? Let me know what you think! And Happy (belated) Thanksgiving!
Lindsay