Take a wonderfully crazed excursion into the demented heart of a tropical paradise—a world of cargo cults, cannibals, mad scientists, ninjas, and talking fruit bats. Our bumbling hero is Tucker Case, a hopeless geek trapped in a cool guy's body, who makes a living as a pilot for the Mary Jean Cosmetics Corporation. But when he demolishes his boss's pink plane during a drunken airborne liaison, Tuck must run for his life from Mary Jean's goons. Now there's only one employment opportunity left for him: piloting shady secret missions for an unscrupulous medical missionary and a sexy blond high priestess on the remotest of Micronesian hells. Here is a brazen, ingenious, irreverent, and wickedly funny novel from a modern master of the outrageous.
Here is the setting: I am standing in the airport waiting for my flight on a bleak January evening. The pit of my stomach aches with the unnecessary stress that always accompanies the holidays and, thankfully, the airport bar is open. I shoot a whiny text to my best friend expressing my despair of not having a funny tropical book to get me through family vacation. She's a gem and readily suggests Island of the Sequined Love Nun. I curse spotty wifi and download the book (I didn't even read the book blurb) while sitting at the airport bar waiting for a shot of tequila. Guys….it turned out to be the perfect read to pull me out of my grumpy slump!
I am not providing a summary; the one above is perfectly vague and tantalizing. We are just going to jump into the review. I loved it. I mean…WWII flight exploits, Cargo Cults, live nose art, and perfectly detailed flight scenes…is there any question why I enjoyed this story?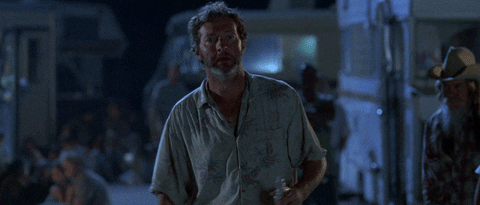 It helps Island of the Sequined Love Nun also provides a complex plot, well developed characters, and tons of laughs. First: the characters are well rounded with each having individual flaws, positive qualities, and obvious personal growth. (Well. Except for the villains; however, they are delightfully crappy). Second: the setting is so effortlessly perfect. One minute you're reading about Tucker traipsing through the jungle and the next you can taste the island grog and feel a bead of sweet roll its way down your butt crack. Moore is a quirky master of his craft.
HOWEVER….this is definitely the type of book you have to be in a specific mood to read. That is really going to be the only negative comment I have about the story. I mean there is a talking fruit bat and a holy poker game. It's hilarious; it's wacky. I picked up Island of the Sequined Love Nun because I desperately needed an easy laugh and it immediately delivered. But, I didn't finish the book in one reading. I put it down and read something else when I experienced a change in mood. I picked it back up when I was ready to laugh again. And I enjoyed it!
This is the story I would recommend for those needing a funny, laugh-out-loud read to start off a beach vacation. It helped me get through the stress of a family vacation and frustrating time at work. I turned that last page (figuratively since I read it on my Kindle) while at the beach enjoying the perfect Florida spring weather. It was equally enjoyable on a sunny beach and gloomy airport. So read it!
Let me know if you're a Christopher Moore fan and please share your summer reading list! Happy Reading!
Lindsay