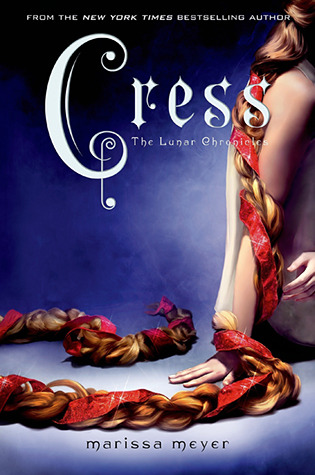 In this third book in the Lunar Chronicles, Cinder and Captain Thorne are fugitives on the run, now with Scarlet and Wolf in tow. Together, they're plotting to overthrow Queen Levana and her army.

Their best hope lies with Cress, a girl imprisoned on a satellite since childhood who's only ever had her netscreens as company. All that screen time has made Cress an excellent hacker. Unfortunately, she's just received orders from Levana to track down Cinder and her handsome accomplice.

When a daring rescue of Cress goes awry, the group is separated. Cress finally has her freedom, but it comes at a high price. Meanwhile, Queen Levana will let nothing prevent her marriage to Emperor Kai. Cress, Scarlet, and Cinder may not have signed up to save the world, but they may be the only hope the world has.
Cress is the third installment of Marissa Meyer's Lunar Chronicle series and readers dive in to the tale of Queen Levana's satellite spy, Crescent 'Cress' Moon.  The story opens with the fugitive crew slipping through the stars to save Cress and Meyer takes us to Africa, Luna, and Back to New Beijing on an exciting journey to piece together Cinder's team and stop the royal wedding.
Cress was a fun, fast-paced story that I could not put down; I had my husband laughing as I jumped up and down on the bed in excitement as plotlines fit together perfectly.  But, I had expected a tad more from Cress and my slight frustration resulted from the lack of character development that stemmed from the characters constantly being on the run.  I was disappointed in Wolf's meltdown, I expected a little more from Cress as the story progressed, and I was disappointed at Cinder's lack of leadership throughout the entire story.
I still loved it!  I enjoy the world that Meyer has created and she has a talent for re-telling the classic fairytales (Thorne's lost eyesight is a quirky example).  Cress and Thorne develop a unique and real relationship as they survive the African deserts together and it is entertaining watching Cress react to her new friends.  Readers also get to spend more time with Kai, Dr. Erland, and Sybil Myra, who I just love to hate.  We even get a glimpse at the semi-sane Winter.  I love the fairytale romances and the intricate plotlines; Marissa Meyer is a master in her genre!  it is going to be difficult to wait for Fairest and Winter!
Let me know what you think about the review and Cress.
Lindsay